Los Angeles Back and Spinal Cord Injury Lawyer
Back and Spine Injury Claims in Southern California
Spinal cord injuries are extremely serious conditions that can result from all types of accidents and traumatic events. In the United States, motor vehicle accidents are the leading cause of spinal cord injuries, followed by falls. Regardless of the cause, if you have sustained a spinal cord injury, you are likely to experience dramatic changes in your life.
At Scott J. Corwin, A Professional Law Corporation, we represent individuals in Los Angeles and throughout California who have sustained spinal cord injuries as a result of someone else's negligence. Our Los Angeles spinal cord injury attorney, Scott J. Corwin, brings more than 30 years of experience to his practice, as well as a long-standing record of success with more than $125 million recovered for over 3,000 clients. He is also a member of the National Spinal Cord Injury Association and is one of fewer than 700 attorneys nationwide to be selected for membership in the Multi-Million Dollar Advocates Forum.
Attorney Scott J. Corwin has earned the Litigator Award for Catastrophic Injury, Automobile Accidents, Spinal Cord Injury and Motorcycle Accidents (Top 1% Nationwide).For a free consultation, call (310) 683-2300 or contact us online today.
On This Page:
Understanding the Basics of Spinal Cord Injuries
The spinal cord is a group of nerves that carry messages from the brain to various areas of the body. This bundle of nerves is enclosed and protected by the spinal column, which is made up of individual vertebrae in the neck, mid-back, and lower back. Fractured vertebra or compression fractures of the spine can result in permanent disability.
Spinal discs are rubbery, washer-like structures that cushion the space between each vertebra. Exiting from each level between vertebrae are nerves that travel from the brain to various areas of the body to send signals to the arms, hands, fingers, legs, feet, and toes. Disc and nerve injuries often result in serious, long-term problems, sometimes requiring surgical intervention to repair.
Types of Spinal Cord Injuries
The location of injury along the spinal column will determine which body parts are affected. Injury to the upper portion, or "cervical," spinal cord often results in quadriplegia/tetraplegia. Injury to the middle portion, or "thoracic," spinal cord may cause paraplegia, and injury to the lower portion, or "lumbar," spinal cord can cause paraplegia or decreased function in the legs and feet.
Some common spinal cord injuries include:
Torn or stretched muscles/tendons (strains)
Herniated, slipped, or bulging discs
Nerve damage
Paraplegia
Quadriplegia/tetraplegia
These and other spinal cord injuries can have serious, lasting effects, from severe, chronic pain to significant impairment to permanent disability, loss of motor function, and paralysis.
Common Causes of Spinal Cord Injuries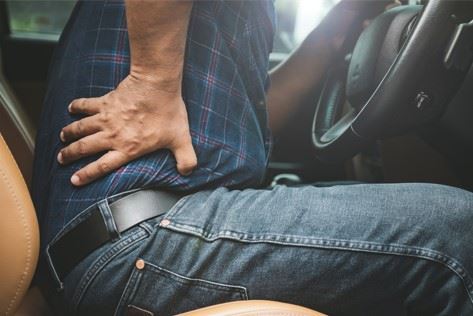 The leading causes of spinal cord injuries in the U.S. include:
Falls
Sports and recreation accidents
Violence
Disease
Additionally, studies have found that alcohol often plays a role in these incidents. If you were severely injured by a drunk driver or suffered a devastating spine injury due to someone else's negligent or wrongful conduct, you have the right to take legal action. By filing a personal injury claim or lawsuit, you can seek financial compensation for your damages, including your medical bills. While a settlement or verdict cannot undo the trauma you have been through, a favorable outcome to your case can allow you to secure the monetary resources you need to obtain proper treatment, manage everyday expenses, and move forward with your life.
Fighting for the Compensation You Need After a Spinal Cord Injury
Spinal cord injuries can result in tens or even hundreds of thousands of dollars in medical costs every year. On top of this, victims may not be able to return to work or obtain any form of gainful employment following their injury. They may struggle to manage everyday expenses along with the costs of treatment and are likely to suffer a significant amount of physical pain and emotional distress.
At Scott J. Corwin, A Professional Law Corporation, we fight to recover maximum compensation for your damages, including but not limited to:
Past and future medical expenses
Past and future lost wages/income
Past and future pain and suffering
Miscellaneous out-of-pocket expenses
Lost or reduced quality of life
You can count on Attorney Scott J. Corwin to give you the one-on-one attention you need and deserve after your accident. Your case will never be passed off to a less-qualified associate or paralegal. Instead, our founding attorney will listen to your story, explain your legal options, and then fight on your behalf to obtain maximum compensation for your injuries.
Call Our Spinal Cord Injury Lawyer in Los Angeles
Were you injured in Los Angeles, San Bernardino, Riverside, Orange, San Diego, Ventura, or Santa Barbara County or elsewhere in California? Our Los Angeles-based back and spine injury lawyer at Scott J. Corwin, A Professional Law Corporation can help you fight for the justice you deserve.
When you choose our firm, you get personal attention from your spinal cord injury attorney in LA throughout your case. We are here for you every step of the way, ready to answer your questions and address any concerns you may have. There are no legal fees unless we recover compensation for you.
Schedule a free initial consultation with Scott J. Corwin, A Professional Law Corporation by calling (310) 683-2300 or by contacting us online.
Making Things Right
Over $125 Million Recovered on Behalf of Our Clients
Brain Damage $3,407,752

Boy sustains brain damage from trip and fall in pothole.

Bus Accident $2,782,954

Passenger injured when bus driver falls asleep and rolls bus.

Motorcycle Accident $2,300,000

City employee causes collision with police motorcycle.

Motorcycle Accident $2,100,000

Motorcyclist suffers brain injury in collision.

Motorcycle Accident $1,250,000

Vehicle turns left in front of motorcycle, causing collision.

Car Accident $1,250,000

Driver injured in collision with vehicle that crossed over into his lane.

Car Accident $1,000,000

Rear-end collision exacerbates pre-existing back condition.

Car Accident $1,000,000

Driver injured in nighttime collision with overturned big rig on highway.

Brain Injury $1,000,000

Rider injured on ferris wheel when struck in head by seat rack.

Car Accident Injury $850,000

Eight-year-old boy struck and killed by vehicle while crossing busy thoroughfare.
What Sets Us Apart
Quality Legal Representation Your Case Needs
Fast, Favorable Resolutions

At Scott J. Corwin, A Professional Law Corporation, we understand the importance of securing a favorable outcome in your case, fast. More than 95 percent of our clients' cases settle within 5 to 9 months, and our clients are very satisfied with the results (see our client reviews!). We only file lawsuits when absolutely necessary, such as in cases where the defendant disputes liability or refuses to pay for the full extent of our client's damages.

Renowned Reputation

With more than 30 years in practice and over $125 million recovered for his clients, Scott is known for his aggressive approach to litigation. Some of his accolades include:

Inclusion in the Southern California Super Lawyers® list since 2007, a distinction reserved for only the top 5 percent of all personal injury lawyers in the region
Named a "Top 100 Super Lawyer"
Named a Top 25 Motor Vehicle Accident Lawyers in California by the National Trial Lawyers Association since 2010
Maintains a 10.0 Superb rating on Avvo

Personal Attention

At Scott J. Corwin, A Professional Law Corporation, we believe in developing strong attorney-client relationships built on honesty, trust, and communication. As a client, you will always receive direct, personal attention from Scott; your case will never be passed off to an associate or paralegal. Instead, you can always rely on dedicated representation from a highly experienced and award-winning attorney who is ready to fight for you.

Zero Upfront Fees

Our firm offers all personal injury and wrongful death legal services on a contingency fee basis. This means you do not pay any upfront or out-of-pocket fees or expenses. Instead, we only get paid if and when we recover compensation for you. In the unlikely event that we do not win your case, you do not pay a dime. We also offer free consultations, so you have nothing to lose in reaching out to our team today. Contact our firm 24/7 and we'll get back to you within one business day.
Client Reviews
Here What People Have to Say About Scott
I am not one to write reviews but after an unfortunate car accident, I am so glad I called Scott Corwin.

- Catherine Lenke

A month ago, I was involved in a car crash and broke my right wrist. The process with this attorney was pretty fast. Scott was able to help me and also Julie was always super nice and very professional. I'm very glad everything was easy and fast.

- Sabrina Guna

Scott got the personal injury settlement amount I expected to get (actually a few percent more). He was quiet and efficient, not a time-waster. Perfect fit for a working person.

- Carl Hoppe

Thanks again Scott and Staff for your great work. My family and I are fortunate to have you all by our side in times of need.

- Maria Mejia
NTLA Top 25 Motor Vehicle Trial Lawyers

NTLA Top 25 Brain Injury Trial Lawyers

Top 100 Trial Lawyers

Multi-Million Dollar Advocates Forum

Super Lawers

Avvo 10.0

American Association for Justice

Litigator Awards

LATLC

Consumer Lawyer of Los Angeles

Consumer Attorneys of California

BBB A+

NSCIA

Brian Injury Association