Los Angeles Distracted Driving Accident Attorney
Distracted Driving Accidents in Southern California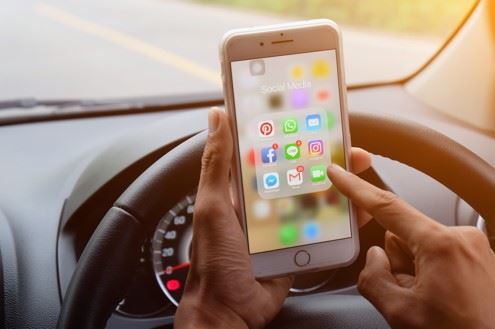 California has banned texting while driving and handheld cellphone use, but some people still use their phones while driving. They don't realize how dangerous it is, or they simply choose to ignore the risk.
Here are some grim statistics:
If you or someone you love has been injured in an accident caused by a distracted driver, it is wise to consult a qualified attorney before accepting an insurance settlement. We invite you to contact our distracted driving accident attorney in Los Angeles at Scott J. Corwin, A Professional Law Corporation to discuss your legal rights and options during a free initial consultation.
Call our firm at (310) 683-2300 or contact us online to schedule an appointment today with a professional car accident lawyer in Los Angeles.
On This Page:
Help for Victims of Irresponsible Drivers
At Scott J. Corwin, A Professional Law Corporation, we have successfully represented many clients who have been injured by careless, distracted drivers in Los Angeles and throughout Southern California. Whether your injury is relatively minor or very serious, you have the right to seek financial damages. Attorney Scott J. Corwin can help you understand all your available options.
Scott J. Corwin is a member of the Multi-Million Dollar Advocates Forum, a prestigious group of only 700 lawyers who have won multimillion-dollar verdicts, awards, and settlements. He is also a member of the Motor Vehicle Trial Lawyers Association (MVTLA) and holds an Avvo rating of 10.0 "Superb."
What Is Distracted Driving?
Distracted driving includes anything that takes the driver's attention off the road. It's extremely common and includes much more than texting while driving.
Drivers may also be distracted by:
Talking on the phone with or without a hands-free device, as drivers are still distracted by the conversation itself
The use of mobile apps or social media
Eating or drinking
Talking to other passengers
Putting on makeup, combing hair, or other grooming
Reading maps or using a navigation system
Watching a video
Adjusting a radio, GPS, or other vehicle controls
Attending to children or pets in the car
Daydreaming
Looking at accidents or objects along the roadway
Even a brief distraction can be dangerous, and there is never any excuse for not watching the road. If you have been injured in this kind of car accident, Scott J. Corwin, A Professional Law Corporation can help you fight to obtain the maximum possible compensation.
Types of Distracted Driving
Although many different activities can divert a driver's attention from the road ahead, driving distractions tend to fall into one or more categories.
There are three main types of distracted driving:
Cognitive Distractions: Encompass a wide range of mental activities a driver can be involved in that take their attention from the road, whether it be worrying about what to make for dinner, talking to a passenger, or even singing along to the radio.
Visual Distractions: Include anything that requires the driver to take their eyes off the road, such as checking seatbelts, looking at a passenger in the vehicle, or glancing at a cellphone or GPS.
Manual Distractions: Include any activities that cause the driver to take one or both hands off the wheel, including reaching for a dropped phone or grabbing something quickly from a purse.
Because distracted driving accidents are entirely preventable, you may feel angry or frustrated about what happened. As your Los Angeles distracted driving accident attorney, Scott J. Corwin will take the time to listen to your story and offer responsive, compassionate, and effective legal counsel.
California Texting and Driving Laws
California has several laws in place to minimize driver distractions and maximize safety for everyone on the road. Drivers in Los Angeles and across the state are prohibited from talking and/or texting on a handheld cellphone while behind the wheel, according to the Governors Highway Safety Association.
There are several exceptions to the handheld cellphone/texting while driving ban. In emergencies, drivers may use handheld devices to call for emergency services. The ban also does not apply to emergency personnel who are currently operating an authorized emergency vehicle, as well as any driver operating a motor vehicle on private property. California drivers are also allowed to manually turn on or off mounted GPS devices, as long as doing so requires a single tap or swipe.
Note that drivers under the age of 18 are prohibited from using any cellular/wireless device while driving, even if the device is hands-free, except in the case of emergencies.
In order to comply with the law, many motorists have switched to using hands-free cellular devices. These cellphones allow drivers to maintain a conversation without having to use their hands or take their eyes off of the road. While these devices might be safer to use than handheld devices, studies show that they still serve as a significant distraction to drivers and could even contribute to a serious motor vehicle accident.
How to Protect Yourself from Distracted Drivers
It's not uncommon to look over at a driver in the neighboring lane and see their head down staring at their cellphone. However, more often than not, we don't have a direct line of sight into other vehicles, so it's essential to keep your eyes peeled for warning signs of distracted driving.
According to police officers, these signs include drivers who:
Travel much faster or slower than the speed limit or flow of traffic
Change speed seemingly out of nowhere
Stop longer at traffic indicators, such as stoplights or stop signs
Weave in and out of traffic
Drift within their lane or across lanes
Suddenly stop or brake while driving for no apparent reason
If you notice this behavior on the road, what should you do? First, it is important to assume that the other driver isn't aware of your vehicle; even if they do know you're on the road, they clearly are not processing your presence in their immediate conscious mind, so it is important to give them a wide berth. You can achieve this by either moving over, carefully attempting to pass them, or slowing down to ensure you're safely behind them. If you feel you and others sharing the roadway are in real and imminent danger, pull over to the side of the road and call 911. Remember there's no need to be a vigilante—the police can take care of the situation and you're much more likely to put yourself in danger if you attempt to stop the distracted driver personally.
How Do You Prove Distracted Driving?
In California, the injured party bears the burden of proof in car accident claims. This means that you are the one responsible for proving the other person's liability, as well as your damages. But how can you prove that someone was texting while driving or otherwise distracted behind the wheel?
At Scott J. Corwin, A Professional Law Corporation, our Los Angeles distracted driving accident lawyer has more than 30 years of legal experience, including extensive experience handling complex car accident claims. We often work with industry experts, including accident reconstructionists, who help us rebuild the accident to determine exactly what happened. We utilize all available evidence, including cellphone records and vehicle black box data, to put together powerful cases for our clients. This approach has helped us recover millions of dollars in compensation, including numerous million- and multimillion-dollar settlements and verdicts.
Whether you suffered catastrophic injuries after being rear-ended by a distracted driver, or your loved one was tragically killed in a head-on crash with someone who was texting behind the wheel, our firm is here to provide the dedicated legal guidance you need. We offer compassionate, personalized support for each and every client, as well as aggressive advocacy in and out of the courtroom.
Call an Experienced Distracted Driving Accident Lawyer in Los Angeles Today
When you need a highly qualified attorney to help you get fair compensation for a distracted driving injury, choose Scott J. Corwin, A Professional Law Corporation. We bring more than three decades of proven experience and a longstanding history of success to our practice. We are known for our aggressive approach to litigation, as well as for doing everything possible to maximize our clients' recoveries.
For a free case evaluation, call us at (310) 683-2300 or contact us online today. We represent all different types of car accident claims.
Car Accident-Related Case results
Over $130 Million Recovered on Behalf of Our Clients
Car Accident $1,250,000

Driver injured in collision with vehicle that crossed over into his lane.

Car Accident $1,000,000

Rear-end collision exacerbates pre-existing back condition.

Car Accident $1,000,000

Driver injured in nighttime collision with overturned big rig on highway.

Car Accident Injury $850,000

Eight-year-old boy struck and killed by vehicle while crossing busy thoroughfare.

Brain Injury $780,000 Settlement

Stopped vehicle rear-ended by pickup.

Car Accident $410,000 Settlement

Driver injured when broadsided by left-turning vehicle.

Car Accident $350,000 Settlement

Consecutive accidents injure motorist's lower back.

Car Accident $331,705 Settlement

Driver suffers lumbar sprains following rear-end collision.

Car Accident $310,000 Settlement

Driver injured in collision when vehicle enters his lane.

Car Accident $303,750 Settlement

Driver suffers injuries in rear-ender.

Car Accident $300,000 Settlement

Driver and two passengers injured in rear-end collision.

Car Accident $300,000 Settlement

Driver rear-ended after stopping for traffic.

Car Accident $280,000 Settlement

Driver rear-ended on I-5 while on the job.

Car Accident $260,000 Settlement

Passenger injured when struck by vehicle.

Car Accident $260,000 Settlement

Driver injured in collision with vehicle exiting alley.

Car Accident $255,000 Settlement

Driver rear-ended while stopped in traffic.

Car Accident $250,000 Settlement

Aspiring model injured in vehicle collision.

Car Accident $250,000 Settlement

Driver sustains injuries in rear-ender after slowing to enter driveway.

Car Accident $250,000 Settlement

Driver sustains injuries in collision with left-turning vehicle.

Car Accident $250,000 Settlement

Driver's pre-existing back injury aggravated in rear-end collision.

Car Accident $250,000 Settlement

Driver allegedly runs red light, causing collision
What Sets Us Apart
Quality Legal Representation Your Case Needs
Fast, Favorable Resolutions

At Scott J. Corwin, A Professional Law Corporation, we understand the importance of securing a favorable outcome in your case, fast. More than 95 percent of our clients' cases settle within 5 to 9 months, and our clients are very satisfied with the results (see our client reviews!). We only file lawsuits when absolutely necessary, such as in cases where the defendant disputes liability or refuses to pay for the full extent of our client's damages.

Renowned Reputation

With more than 30 years in practice and over $130 million recovered for his clients, Scott is known for his aggressive approach to litigation. Some of his accolades include:

Inclusion in the Southern California Super Lawyers® list since 2007, a distinction reserved for only the top 5 percent of all personal injury lawyers in the region
Named a "Top 100 Super Lawyer"
Named a Top 25 Motor Vehicle Accident Lawyers in California by the National Trial Lawyers Association since 2010
Maintains a 10.0 Superb rating on Avvo

Personal Attention

At Scott J. Corwin, A Professional Law Corporation, we believe in developing strong attorney-client relationships built on honesty, trust, and communication. As a client, you will always receive direct, personal attention from Scott; your case will never be passed off to an associate or paralegal. Instead, you can always rely on dedicated representation from a highly experienced and award-winning attorney who is ready to fight for you.

Zero Upfront Fees

Our firm offers all personal injury and wrongful death legal services on a contingency fee basis. This means you do not pay any upfront or out-of-pocket fees or expenses. Instead, we only get paid if and when we recover compensation for you. In the unlikely event that we do not win your case, you do not pay a dime. We also offer free consultations, so you have nothing to lose in reaching out to our team today. Contact our firm 24/7 and we'll get back to you within one business day.
Client Reviews
Here What People Have to Say About Scott
Needed help with a 4-car collision. He took care of everything on his end.

- Earon Bagunu

I am not one to write reviews but after an unfortunate car accident, I am so glad I called Scott Corwin.

- Catherine Lenke

A month ago, I was involved in a car crash and broke my right wrist. The process with this attorney was pretty fast. Scott was able to help me and also Julie was always super nice and very professional. I'm very glad everything was easy and fast.

- Sabrina Guna

Scott got the personal injury settlement amount I expected to get (actually a few percent more). He was quiet and efficient, not a time-waster. Perfect fit for a working person.

- Carl Hoppe

Thanks again Scott and Staff for your great work. My family and I are fortunate to have you all by our side in times of need.

- Maria Mejia
AN EXPERIENCED ATTORNEY YOU CAN TRUST
Our Awards & Recognitions In The Legal Community
NTLA Top 25 Motor Vehicle Trial Lawyers

NTLA Top 25 Brain Injury Trial Lawyers

Top 100 Trial Lawyers

Multi-Million Dollar Advocates Forum

Super Lawers

Avvo 10.0

American Association for Justice

Litigator Awards

LATLC

Consumer Lawyer of Los Angeles

Consumer Attorneys of California

BBB A+

NSCIA

Brian Injury Association