On This Page:
Do I Need An Attorney After Being Involved in a Car Accident?

If you were injured in your car accident, the odds are that the insurance company is going to do their best to minimize your injuries and minimize how much they are willing to pay you for them. At the end of the day, your insurance company isn't out to protect your best interests, but to protect their own bottom line. By hiring an attorney to represent you, you accomplish several things:
You show the insurance company you're serious about pursuing compensation for your injuries
You have the benefit of being guided through the claim and lawsuit process by a professional
You get to focus on your recovery while we handle everything else
If you're still confused on whether or not you need to hire an attorney to represent you, reach out to Attorney Scott Corwin today to discuss your situation in a free, no-obligation consultation. We can help you determine whether or not you have a claim worth pursuing.
I'm Hurt — What Do I Do After a Car Accident?
DON'T…
Panic: Accidents are traumatic. Take a breath, and get yourself together. You can do this.
Talk too freely: Instead, be discreet. You can harm your case just by saying "I'm fine."
Talk to your neighbors: Insurance investigators will take note of any discrepancies between what you told them versus others.
Leave the scene: Always stick around to talk with police and gather information.
DO…
Collect evidence: Photos of the scene, and of you and your injuries, will be valuable later.
Collect information: From the other driver and from eyewitnesses.
Call your insurance agent: This is almost as important as seeing a doctor immediately.
Get help: Hire an experienced personal injury lawyer.
Common Car Accident Injuries
Amputation injuries: When a part of the body, such as a limb or digit, is lost during the accident itself or as a necessary surgical operation as a result of the injury.
Head and brain injuries: Sudden and severe impact to the skull resulting in concussions and traumatic brain injuries (TBI) are some of the most common injuries to the head, along with post-traumatic stress disorder (PTSD).
Back and spinal cord injuries: These injuries can include compression fractures of the spine, fractured vertebra, paraplegia, quadriplegia, neck injuries, cervical or lumbar herniations, disc injuries, nerve injuries, or damage, nerve compression injuries, whiplash, and more.
Burn injuries: Fires and vehicle explosions during and after a crash can easily result in severe, life-altering burns on a section or all over the body.
Broken bones: Fractured and broken bones, simple, complex, comminuted, or avulsion fractures, including broken arms or hands, legs, ankles or feet, ribs, collar bones, are a common result of car crashes and other accidents.
Soft tissue injuries: These injuries often involve serious damage to the internal organs and structures of the body.
Scars and Disfiguring Injuries: These include injuries sustained from airbag abrasions, serious lacerations from flying windshield glass, road rash from motorcycle and bicycle accidents, and more.
If you were injured, or someone you love was killed because of another driver's negligence, you have the right to seek compensation. Choose a car accident attorney in Los Angeles who is experienced, aggressive, and dedicated to working hard to get fair compensation for your injuries. Choose Attorney Scott J. Corwin of Los Angeles.
What Kind of Car Accident Compensation Can I Receive?
Car accident settlements, like many other types of injury settlements, are calculated based on several different types of "damages." Damages can be either economic or non-economic.
Economic Damages take the form of out-of-pocket expenses including things like: medical bills, medication costs, physical therapy, damaged property, lost wages from missed work, etc.
Non-economic Damages usually include things like pain and suffering, emotional distress, loss of companionship or consortium, diminished quality of life, or loss of enjoyment.
In some situations, victims may also be able to recover compensation in the form of Punitive Damages; these types of damages are intended to punish the wrongdoer for particularly reckless or egregious acts of negligence. When it comes to car accident lawsuits, this can sometimes include drunk driving accident cases.
What Causes Most Car Accidents?
The most common factors in auto accidents relate to attention. They happen because:
Drivers are exceeding the speed limit
Their attention is on something besides driving: using their cell phone, arguing with a passenger, looking for an address, eating a sandwich, changing radio stations
They don't obey stop signs or red lights
They are driving under the influence, and your safety is not their concern
Sometimes the party at fault isn't another driver. It can be the city or municipality that failed to keep the road safe. Or it can be the manufacturer of a part that fails at a crucial moment.
California Car Accident Statistics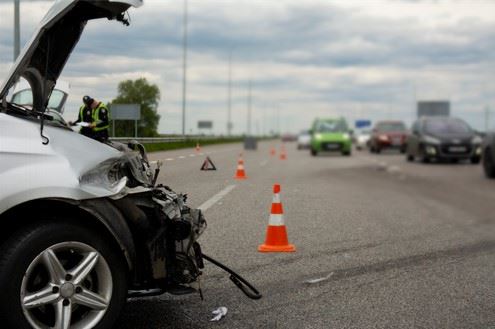 The numbers for California car accidents are staggering. The National Highway Traffic Safety Administration (NHTSA) estimates that there was an approximate total of 42,795 traffic fatalities in 2022, with at least 4,400 of those occurring in California. This early estimate reflects a 2.8% increase in California traffic fatalities over 2021 data. (NHTSA data is still being analyzed for 2022 at the time of this writing, so the final number could change slightly.)
More specific data about California car accidents shows or suggests that:
312 traffic fatalities were recorded by the Los Angeles Police Department (LAPD) in 2022, a 5% increase over 2021 and a 29% increase over 2020.
January through March 2022 saw the largest year-over-year increase in fatal traffic accidents at nearly 9% more than in 2021, based on early NHTSA data.
Data analysts from UC Berkeley estimate there were 134 fatal or severe injury traffic accidents in California each week in 2022, or nearly 7,000 that year.
UC Berkeley crash data analysis also suggests that there are an additional 1,025 traffic accidents that did not cause a serious injury or death in California each week in 2022, or more than 53,000 that year.
Car Accident FAQ:
What will hiring a car accident lawyer cost me?
Nothing, until we come through for you. We are only paid when there is a settlement or verdict in your favor. We are paid by the insurance company — you never write a check. Our firm offers no-charge, no-obligation case evaluation.
Will my insurance hold the negligent driver accountable?
It usually does. However, there are special situations — hit-and-runs, phantom accidents, and accidents where the party at fault has no insurance or not enough insurance — where the car accident claim is filed against your own policy.
Who pays for a rental car after an accident?
In some cases you may be able to get a rental car to temporarily replace your damaged car following your accident. This is typically covered by the at-fault driver's insurance and may come in the form of rental reimbursement. If this is a concern, you should mention it to your attorney when discussing your case.
Isn't having insurance enough?
Insurance should cover you for all injuries, but it often comes up short. The last thing insurance companies want is to pay you the full amount you need and deserve. That's why you need an experienced advocate on your side.
Where do most car accidents occur?
Injuries occur in every kind of situation — at high speeds, in stop-and-go traffic, even parking lots. Many injuries can take weeks or months to appear, which is why working alongside a dedicated and experienced accident attorney with decades of litigating auto accidents can make all the difference in the recovery. The painful truth is that most car accidents are entirely preventable.
Accidents can happen anywhere and have many causes, including:
Personal Attention & One-on-One Representation
Count on Scott J. Corwin to give you the personal attention you need and deserve. Your case will never be passed off to a less-qualified associate. Our founding attorney will listen to your story, explain your legal options, and then fight on your behalf to obtain the maximum compensation for your injuries.
Recent Car Accident Settlements
$1,250,000 – Shoulder and ankle injuries
$1,000,000 – Neck and back surgeries
$1,000,000 – Eye and facial injuries
Consult Our Car Accident Lawyer in Los Angeles Today
Scott is one of fewer than 700 attorneys nationwide who are members of the Multi-Million Dollar Advocates Forum. With more than 30 years of experience, Scott has successfully represented more than 3,000 injury victims and obtained recoveries totaling over $130 million. No matter what type of car accident you have been in, Scott is ready to pursue a car accident lawsuit on your behalf to ensure you get the compensation you deserve.
Call (310) 683-2300 now for a free consultation.