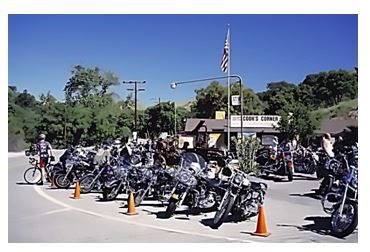 To qualify for the list, a great biker hangout can't be too fancy. You can't be the only biker there. And there should be something to do besides drink beer. Here are some spots favored by our clients and friends.
10. Original Mike's, Santa Ana
Original Mike's is an orange County fixture for bikers, located in what was originally Santa Ana's first Buick and Horseless Carriage Auto Dealership, built back in 1919. The place features three separate bar areass, three separate music stages and three dance floors.
9. Chad's Place, Big Bear
Big Bear remains a top attraction for Angelenos needing a break. It's a hours from the city but expect to to dance the night away to live music, shoot stick, play darts, or palaver with the bartenders.
8. Tom's Farms, Corona
· Tom's farms isn't a joint. It's a major roadside attraction, with restaurants, a produce market, furniture store and other events. It's also a destination for thousands of bikers every month. Celebrated for their dried apples.
7. Big Oaks Lodge, Santa Clarita
Big Oaks Lodge was once a training place for movie stars readying for boxing roles. A good place to check out custom bikes and other vehicles. A good place to chill after a Pacific crest hike in Bouquet Canyon.
6. Wine and Beer Garden, Temecula
Lots of cyclists stop off at the Temecula Wine & Beer Garden on trips up to Mount Polaris. The Old Town Temecula landmark opened in 1999. It bills itself as an adult-establishment where people go to meet other people. Smoking is permitted, and women are treated respectfully.
5. Neptune's Net, Malibu
Bikers and others are drawn to the ocean breezes alongside the Pacific Coast Highway – Malibu in its natural state. Come for the food, but you are also free to surf, sight-see and spot meandering celebrities.
4. Crazy Otto's, Acton
Famous for breakfasts, Crazy Otto's is a beloved place to stop in Antelope Valley and recoup after a good ride. Located right next to the tracks, fonder Otto Lindsel installed a numbered wheel to be spun whenever a train rumbles by. The seat corresponding to the number gets a free meal. This tradition continues to this day.
3. The Lookout Roadhouse, Lake Elsinore
The Lookout Roadhouse is known for good food, a friendly attitude, and an eye-bugging view of Lake Elsinore. Barbecue is the reason to visit. Spacious and lots of outdoor seating – perfect for larger groups.
2. Way Point Saloon, Ramona
Formerly Molly Malone's, The Way Point is a rock and roll roadhouse, with live shows Friday nights. "We do not have a cruddy band in the corner crooning muddy and squelchy fa-la-la garbage. We have talented professional acts performing on an elevated stage through a high-end sound system."
1. Cook's Corner, Trabuco Canyon
Cook's Corner is a bit of a legend for SoCal bikers. In 1926, E. J. Cook converted an old cabin into a restaurant for miners and local ranchers. Bit by bit the place grew until it became the great roadhouse that it is today. Cook's has that rough-hewn look that bikers favor. The place oozes authenticity. One look around and you would swear you are in another time entirely. Standard road food, breakfast and lunch.
Note: All these places serve beer and liquor. Enjoy yourselves, but drink responsibly. We don't want anyone to get hurt.
If you or a loved one has been injured in a motorcycle accident through no fault of your own, call (310) 683-2300 or contact us online today to discuss your case with an experienced motorcycle accident attorney at Scott J. Corwin, A Professional Law Corporation.