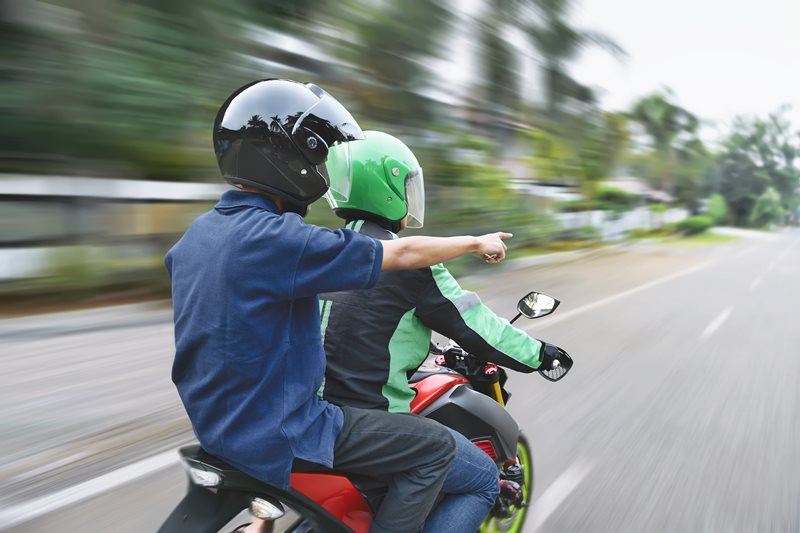 Anyone riding a motorcycle faces some risk of being involved in an accident, including passengers. With that in mind, we offer the following tips for riders and passengers so that everyone gets to enjoy their ride safely.
What motorcyclists need to know about passenger safety
Ideally, you should have your Class M-1 motorcycle license and spent a significant amount of time riding solo on a variety of roadways before adding a passenger. A passenger's added weight will affect how your bike handles, including how long it takes to slow down or shift balance to avoid an obstacle.
Make sure your motorcycle is equipped for passengers. Your bike should have a seat constructed to accommodate two people comfortably and footrests for greater stability. You should also adjust your suspension, tire pressure, mirrors, and lights to accommodate two riders. Consult your motorcycle owner's manual for specific guidelines.
Brief your passenger thoroughly on how to handle themselves on the back of your bike. Ideally, they will have some riding experience, but even if they do, we advise you to run down the rules for motorcycle passenger safety before they climb aboard. These include the following:
Wear the same safety gear as the primary rider, including a helmet that meets guidelines approved by the Department of Transportation and appropriate clothing (e.g., leather jacket, long pants of a durable material, boots or well-fit shoes that completely enclose feet)
Don't board the motorcycle until the primary rider has the engine running
Sit forward on the seat but leave a comfortable space between themselves and the main rider
Hold onto the main rider firmly around the midsection, and do not let go during the ride
Always use footrests to ensure greater stability, and to help keep legs away from any moving parts
Duplicate the body positioning of the main rider – stay straight and still behind them when going forward and lean with them into turns
Don't distract the main rider – only talk if needed to alert them to a situation
Remain observant in case of a sudden occurrence (e.g., a car veering nearby)
The primary motorcycle rider is ultimately responsible for alerting a passenger to any unexpected actions. Alert your passenger if they should tighten their grip on you because of changes in roadway conditions or if you have to stop or shift direction suddenly.
California law on children as motorcycle passengers
All motorcycle riders must be at least four feet nine inches tall — the minimum height to reach the footrests. However, and somewhat controversially, there is no age limit for motorcycle passengers. The following restrictions do apply:
Children must reach the above-mentioned height requirement
Your motorcycle must be equipped with a passenger seat and footrests
Children must wear well-fit helmets that meet federal guidelines for safety
The child should wear standard motorcycle gear
A restraint system (e.g., seat belt) is strongly advised
Contact a Los Angeles motorcycle accident lawyer
Even when motorcyclists and their passengers obey all the rules and safety tips, they run the risk of being seriously injured in a motorcycle accident caused by a careless driver. If you were a rider or passenger on a motorcycle and suffered injuries in a crash, contact Los Angeles motorcycle accident lawyer Scott J. Corwin for advice on your next steps at (310) 683-2300.