Los Angeles Burn Injury Attorney
Severe Burn Injury Claims in Southern California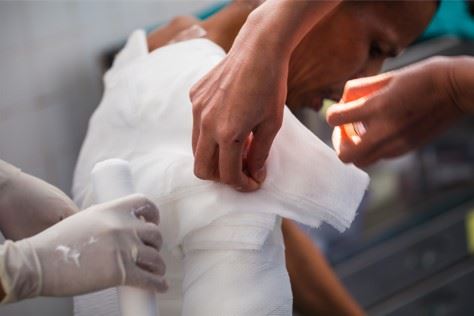 It's no secret that serious car accidents can be catastrophically damaging, if not deadly. In many cases, a bad crash may result in severe burn injuries to the driver, passengers, or bystanders. Serious burns are extremely painful and often result in permanent scars or disfigurement. In addition to the physical pain and emotional distress of such an injury, victims may require numerous surgeries, skin grafts, and long, costly courses of treatment.
Attorney Scott J. Corwin is a highly experienced litigator known for his aggressive approach to negotiating with insurance companies, as well as his compassionate representation for burn injury clients. He is one of fewer than 700 lawyers across the country to be honored with membership in the Multi-Million Dollar Advocates Forum and has been named in the Top 25 Motor Vehicle Accident Lawyers in California by National Trial Lawyers Association (NTLA). With more than 30 years of experience, he has successfully represented more than 3,000 injury victims and obtained recoveries totaling over $125 million for his clients.
Our firm handles a wide variety of cases involving severe burn injuries, disfigurement, and related catastrophic injuries caused by motor vehicle accidents. Since 1992, we have served clients across Southern California and the entire state. If you suffered severe burn injuries due to someone else's negligence or wrongful conduct behind the wheel, reach out to Scott J. Corwin, A Professional Law Corporation today to learn how we can help.
Schedule a free consultation by calling (310) 683-2300 or by contacting us online.
On This Page:
Types of Burn Injury Cases We Handle
At Scott J. Corwin, A Professional Law Corporation, we assist individuals who have suffered severe burns in all types of accidents, with a particular emphasis on motor vehicle accident claims.
Our law firm handles burn cases involving:
Car, truck, or motorcycle accident-related burns
Pedestrian and bicycle accidents, leading to road rash and other burns
Vehicle fires and explosions
Exploding gas tanks on motor vehicles
Abrasive burns from airbags
Abrasive burns ("road rash") from motorcycle accidents
You can count on Scott J. Corwin to give you the one-on-one attention you need and deserve after your accident. Your case will never be passed off to a less-qualified associate or paralegal. Instead, you will receive personalized counsel tailored to your unique situation from a burn injury attorney in Los Angeles who has real trial experience and knows how to effectively advocate for you.
If your burn injury was the result of someone else's negligence or carelessness, you may be entitled to monetary compensation for your past and future lost wages, medical expenses, plastic surgeries, and other damages. Our team is ready to fight to maximize your recovery so that you can get the treatment you need to heal and move forward with your life.
Burn Classifications
Burn injuries are classified according to type and severity. When it comes to car accidents, the injured party may experience any number of thermal, electrical, or chemical burns.
Motor vehicle accidents may cause many different types of burns, including:
Thermal Burns: Caused by contact with hot surfaces, substances, and objects
Electrical Burns: Caused by contact with live electrical currents
Chemical Burns: Caused by contact with harsh, corrosive substances
Friction Burns: A combination of heat and abrasions; also known as "road rash"
Degrees of Burn Injuries
The different degrees of burn injuries include:
First-Degree Burns: Considered "superficial," or mild burns. Although they only affect the upper layer of skin (epidermis), first-degree burns can still cause considerable pain, as well as some redness, swelling, and mild scarring. However, first-degree burns typically do not require medical attention and can be effectively treated at home with over-the-counter pain medications and topical ointments.
Second-Degree Burns: Also known as "partial-thickness burns," second-degree burns can be moderate or severe. They involve damage to both the upper and lower layers of skin (the epidermis and dermis) and may result in significant pain, redness, blistering, and swelling, as well as lasting scars and disfigurement.
Third-Degree Burns: Considered severe injuries and generally constitute medical emergencies. With these types of injuries, the epidermis, dermis, and surrounding tissues suffer significant damage. In some cases, nerves and bones may be damaged, as well. Third-degree burns often result in whitened or blackened "charred" skin and numbness due to nerve damage. They can also be life-threatening and may lead to shock, sepsis, and serious infection.
Combined with the damages already piling up after a car accident, the added medical burden can weigh heavily on you and your family. Regardless of the type or severity of your burn injury, you should not have to suffer the physical, emotional, and financial consequences on your own. When you turn to the Los Angeles burn injury lawyer at Scott J. Corwin, A Professional Law Corporation, you benefit from decades of legal experience and a well-known reputation for securing noteworthy results. Reach out to our firm to learn how we can help you fight for the justice you deserve.
Contact Us Today for a Complimentary Consultation
If you or a loved one suffered burn injuries in a motor vehicle accident, we can help you evaluate your options for financial compensation. We offer free initial consultations and accept contingency fees, meaning you do not pay any upfront or out-of-pocket expenses when you work with our firm. Instead, we only collect legal fees if we recover compensation for you, and these fees are recovered as a percentage of your overall recovery. There is absolutely zero risk for you in reaching out to our team to learn how we can help.
We handle cases in Los Angeles, San Bernardino, Riverside, Orange, San Diego, Ventura, and Santa Barbara counties, as well as throughout the state of California. Do not hesitate to contact us and set up a free consultation with Attorney Scott J. Corwin.
Call (310) 683-2300 or contact us online to get started and speak to a burn injury lawyer in Los Angeles today.
Making Things Right
Over $130 Million Recovered on Behalf of Our Clients
Brain Damage $3,407,752

Boy sustains brain damage from trip and fall in pothole.

Bus Accident $2,782,954

Passenger injured when bus driver falls asleep and rolls bus.

Motorcycle Accident $2,300,000

City employee causes collision with police motorcycle.

Motorcycle Accident $2,100,000

Motorcyclist suffers brain injury in collision.

Motorcycle Accident $1,250,000

Vehicle turns left in front of motorcycle, causing collision.

Car Accident $1,250,000

Driver injured in collision with vehicle that crossed over into his lane.

Car Accident $1,000,000

Rear-end collision exacerbates pre-existing back condition.

Car Accident $1,000,000

Driver injured in nighttime collision with overturned big rig on highway.

Brain Injury $1,000,000

Rider injured on ferris wheel when struck in head by seat rack.

Car Accident Injury $850,000

Eight-year-old boy struck and killed by vehicle while crossing busy thoroughfare.
What Sets Us Apart
Quality Legal Representation Your Case Needs
Fast, Favorable Resolutions

At Scott J. Corwin, A Professional Law Corporation, we understand the importance of securing a favorable outcome in your case, fast. More than 95 percent of our clients' cases settle within 5 to 9 months, and our clients are very satisfied with the results (see our client reviews!). We only file lawsuits when absolutely necessary, such as in cases where the defendant disputes liability or refuses to pay for the full extent of our client's damages.

Renowned Reputation

With more than 30 years in practice and over $130 million recovered for his clients, Scott is known for his aggressive approach to litigation. Some of his accolades include:

Inclusion in the Southern California Super Lawyers® list since 2007, a distinction reserved for only the top 5 percent of all personal injury lawyers in the region
Named a "Top 100 Super Lawyer"
Named a Top 25 Motor Vehicle Accident Lawyers in California by the National Trial Lawyers Association since 2010
Maintains a 10.0 Superb rating on Avvo

Personal Attention

At Scott J. Corwin, A Professional Law Corporation, we believe in developing strong attorney-client relationships built on honesty, trust, and communication. As a client, you will always receive direct, personal attention from Scott; your case will never be passed off to an associate or paralegal. Instead, you can always rely on dedicated representation from a highly experienced and award-winning attorney who is ready to fight for you.

Zero Upfront Fees

Our firm offers all personal injury and wrongful death legal services on a contingency fee basis. This means you do not pay any upfront or out-of-pocket fees or expenses. Instead, we only get paid if and when we recover compensation for you. In the unlikely event that we do not win your case, you do not pay a dime. We also offer free consultations, so you have nothing to lose in reaching out to our team today. Contact our firm 24/7 and we'll get back to you within one business day.
Client Reviews
Here What People Have to Say About Scott
Needed help with a 4-car collision. He took care of everything on his end.

- Earon Bagunu

I am not one to write reviews but after an unfortunate car accident, I am so glad I called Scott Corwin.

- Catherine Lenke

A month ago, I was involved in a car crash and broke my right wrist. The process with this attorney was pretty fast. Scott was able to help me and also Julie was always super nice and very professional. I'm very glad everything was easy and fast.

- Sabrina Guna

Scott got the personal injury settlement amount I expected to get (actually a few percent more). He was quiet and efficient, not a time-waster. Perfect fit for a working person.

- Carl Hoppe

Thanks again Scott and Staff for your great work. My family and I are fortunate to have you all by our side in times of need.

- Maria Mejia
NTLA Top 25 Motor Vehicle Trial Lawyers

NTLA Top 25 Brain Injury Trial Lawyers

Top 100 Trial Lawyers

Multi-Million Dollar Advocates Forum

Super Lawers

Avvo 10.0

American Association for Justice

Litigator Awards

LATLC

Consumer Lawyer of Los Angeles

Consumer Attorneys of California

BBB A+

NSCIA

Brian Injury Association